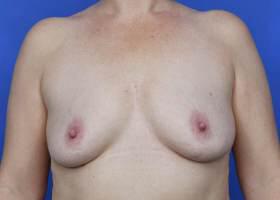 Why Are My Breasts Flat After Breast Implant Removal?
Breast implant removal is more popular than ever in my busy practice. There are many reasons why this is so, with the most common being a woman's fear that their breast implants are bad for their health and "implant fatigue ."Complications after breast implants are not uncommon, both short and long-term. Revision breast implant procedures are costly and without full guarantees of success. Some patients simply want them out and don't want to deal with them any longer.
Women choose breast implants because they make their breasts larger and improve breast shape. When removed, naturally, your breasts will be smaller, and the ultimate shape depends on many factors, most importantly, the quality of your skin. In addition, weight gain and loss, pregnancies, and menopause have a tremendous impact on your breasts—the skin and the deeper breast tissues, as well as the ligaments that keep your breast shape.
What happens when breast implants are removed and not replaced?
Simply put, you will lose volume, and the shape of your breasts can change. Patients who have high-quality skin without sagging breast tissue may do very well after breast implant removal. In contrast, those patients with sagging breast tissue and skin laxity will often develop sagging breasts with a loss of superior fullness (the breasts appear flat).
Lucky patients often have attractive breasts after implant removal. For some, their breasts are better than before their breast augmentation. For patients with empty breasts that were sagging before their breast augmentation, breast implant removal results can be disappointing. If you prefer not to live with what you have, there is an option for a breast lift or reduction, depending on the size of your breasts. Your surgeon can lift your breasts at the same time your breast implants are removed, or you can have your implants removed and wait six months later for a breast lift if you want (you may want to live with your result for a while to see if you are happy enough). The scars from a breast lift are typically lollipop or anchor shaped. There is NO WAY to lift and reshape a breast without scars. There is no scarless breast lift!
What is the cost for breast implant removal?
For most of us, the cost is a big deal. The cost of breast implant removal depends on the area you live in and varies by the surgeon. Saline breast implant removal is easier than silicone implants and can be done using local anesthesia. However, removing the scar tissue around breast implants (breast implant capsule) complicates matters significantly and requires general anesthesia and surgical drains. I recommend you consult with several experienced, qualified plastic surgeons before choosing the right one for you and your specific circumstances.
Breast implant removal recovery from uncomplicated saline or silicone implants is but a day or so. Recovery after implant removal and capsule removal with drain use is several days. Recovery from breast implant removal and breast lift is about four days. You will be sore for weeks, but you will be able to go about the routines of life without much of a problem.