The Varga Girls: Pin-Ups Of The 1940s
I was browsing in the bookstore recently, waiting for my daughter to finish her homework when I came across a book on the "Varga Girls," pin-ups of the 1940's. Esquire magazine introduced America to these "Glamour Girls" of the 1940's, all produced from the hand of artist Alberto Vargas. They became the pin-ups of the day, decorating many World War II soldiers' barracks.
Aside from the impressive drawings, what I immediately noted was the unique shape of the women's breasts. They are all narrow, moderate in size, and quite projected—"ultra perky" would describe it best. Yet in those days, breast augmentation wasn't a thing and breast implants didn't exist (they weren't invented until 1964). There was simply no way that a natural breast could possibly have that shape!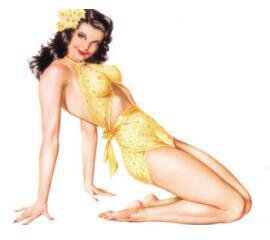 Being a leader in breast surgery, my practice is a reflection on current trends and patient preference. Right now, all the rage is "Varga Girls" type breasts. It's all about "higher, tighter and perkier." High profile breast implants (the narrow and tall variety) help provide for this shape. Often, a "breast lift" is also needed to get that "Vargas" look.
Which breast shape do you prefer? Do you even like the "Varga" shape? And why do you think current trends have changed in favor of the "Vargas" breast?
Robert Caridi, M.D.
How A Breast Augmentation Is Performed At Westlake Plastic Surgery
— Robert Caridi, MD
Diplomate of the American Board of Plastic Surgery
Fellow of the American College of Surgeons (FACS)
Member of the American Society of Plastic Surgeons (ASPS)
Member of the American Society for Aesthetic Plastic Surgery
Founder of the Austin Gynecomastia Center