How To Remove All Gynecomastia Without Caved-In Nipples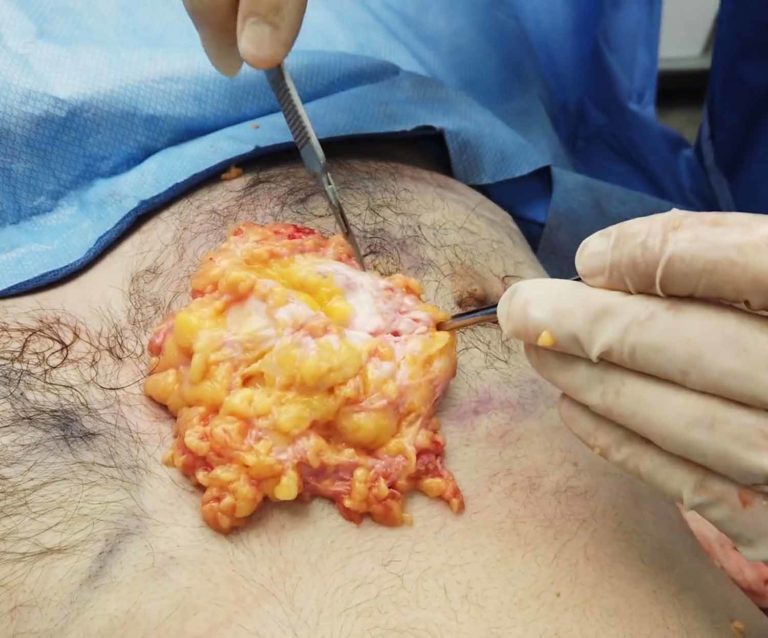 In a recent AMA (Ask Me Anything) for the r/gynecomastia community on Reddit, I received this informed question: "Can you explain the internal flap technique to a layperson and why you choose to do this technique?" I provided a quick answer for that forum, but my internal flap technique is so important to my work that I wanted to explain the process more fully.
Development of the Internal Flap Technique For Gynecomastia Surgery
Back when I started performing surgical treatment for gynecomastia, most people had never heard the word. Everyone was familiar with "man boobs," and they knew the condition was undesirable. But few people understood what caused the problem or what could be done about it. The internet helped these guys figure out they weren't alone. Just as importantly, it helped them see that solutions are available.
There are surgeons who are still using the same techniques from the early days, but I've never been one for standing still. I've continued to develop and refine my technique through experience and staying aware of new surgical innovations.
It's like I've said before, you don't want a gynecomastia surgeon who has only done the procedure 10 times. A surgeon who's done 100 of these operations, they're starting to get the hang of it. Once they've done 1,000, now they're getting somewhere. I've performed over 4,500 gynecomastia surgeries. Through that experience, I've developed what I believe to be the best treatment for gynecomastia: complete gynecomastia tissue removal with the internal flap to ensure a smooth, natural result.
Remove ALL The Gland During Gynecomastia Surgery
What Is the Internal Flap Technique?
Standard gynecomastia treatment at the Austin Gynecomastia Center is performed through a tiny stab incision in the armpit area and a small incision at the bottom of the areola border. This generally gives me all the room I need to remove gynecomastia tissue with the smallest scars possible. Liposuction is often used to remove excess fat so the final appearance of the chest is masculine and smooth. Puffy nipples is a common complaint heard from gynecomastia patients and this is caused by dense tissue under the nipple-areola complexes. If this tissue is not removed by the surgeon you will continue to have puffy nipples after treatment. Someone asked about this in the same Reddit AMA: "Some people say that the surgeon can remove the entire gland so that it won't come back, but others say that likely leads to caved-in nipples."
This Is Why I Developed My Internal Flap Technique For Gynecomastia Surgery
After removal of all gynecomastia tissue there will exist a defect or "hole". This is no different than scooping up some dirt with a shovel and then you have a hole. The internal flap or layered closure technique is a foolproof way of mobilizing normal tissue next to the defect to fill it in. This ensures a smooth, even contour and prevents the skin from adhering to the underlying muscle forming a crease or depression. Simply put, it's a way of you having your cake and eating it too. You get the benefit of total gynecomastia tissue removal and an impressive masculine contour without caved-in nipples!
When a patient has really large, saggy gynecomastia, it's possible that skin removal treatment will be needed for the best result. If I learned anything from such a large volume of patients it's that the ability of chest skin to retract well after treatment should not be underestimated. Many patients don't need skin removal treatment as they do exceptionally well with my standard approach. When you consult with me at the Austin Gynecomastia Center, I will let you know exactly how I will treat your particular case.
The operation generally takes about an hour beginning to end. Most patients are treated with full anesthesia while smaller cases may be treated using local anesthesia. Recovery is related to the size of your gynecomastia and the number of Zones treated. Most patients recover in a day or two but the will be sore for weeks (particularly when touching their chest). Patients generally return to the gym in less than a week, but avoid chest exercise for 2-3 weeks depending on the complexity of their case.
Gyno Caused By Hormone And Supplement Use
Preventing the Donut Deformity After Surgical Treatment Of Gynecomastia
One of the biggest worries for men researching gyno surgery is the dreaded "donut deformity." When using outdated techniques, a surgeon might remove the glandular tissue — which is good — but leave an empty space under the nipple — which is bad. This creates an unnatural divot in the chest under the nipple. It's called a donut deformity because the distracting empty space under the skin looks like the hole of a donut. Almost all gynecomastia cases require some form of tissue removal AND liposuction to achieve the very best result. The only exception to this rule occurs in many of my bodybuilders who have no fat and all gland. In this case, I only remove the gland as there is no fat to treat. These cases are more challenging than the typical ones.
The internal flap technique fills in the depression after gynecomastia tissue removal to avoid the donut deformity. Remember, in my practice I remove all the gynecomastia tissue, particularly the tissue under the areolas that causes "puffy nipples". I don't adhere to the belief that this tissue has to remain in order to obtain a smooth result–this is outdated thinking and will likely result in a less than ideal result and patient dissatisfaction. The internal flap technique avoids the donut deformity. Just as importantly, it also produces a more natural and manly chest. Your chest will look and feel like it should. You're not going to be satisfied if you go through with surgery and don't get the results you deserve. Why not do it right the first time?
Do This Right The First Time
More Benefits of the Internal Flap Technique
The internal flap technique does more than avoid the donut deformity. This method also leaves tissue behind to avoid scarring in the chest. If you put your hand to your chest, you'll notice that your skin can move around. The underside of your skin is called the dermis. If you remove all the tissue between the dermis and muscle, the skin can stick to the muscle. This is an uncomfortable situation that leads to scarring and results that look unnatural. I avoid this problem by leaving behind enough tissue for the chest to look and feel natural.
Simply put, the internal flap technique is a way of ensuring a smooth, natural result after removal of all gross gynecomastia tissue. Nobody wants gynecomastia tissue to remain as you can see it and feel it and it will compromise your result and it can lead to recurrence of gynecomastia in the future.
What if I've Already Had Gynecomastia Surgery?
Not all surgeons who offer to treat gynecomastia have the same experience. There are quite a few patients who have had previous work done and the results are not quite what they expected. They may continue to have puffy nipples or fullness of the chest, or it may not have been artistically performed so the chest simply doesn't look even and smooth. Either way, most secondary cases of gynecomastia can be treated with impressive results at the Austin Gynecomastia Center. While you might think a secondary gynecomastia surgery would be easier — as some of the work has already been done — it's actually much more challenging as I have to deal with difficult scar tissue.
The internal flap technique is very handy in secondary cases when scar tissue removal leaves a defect that needs to be filled in–it's a game changer in these challenging situations for sure. Just because your first gynecomastia surgery didn't go how you'd hoped, you don't have to give up on your dreams!
Do You Have More Questions for the Austin Gynecomastia Center?
Since I first started doing my part to bring gynecomastia out into the open, I've done what I can to help patients understand their options for gynecomastia treatment. If you'd like to discuss solutions with a surgeon who has helped thousands of others say goodbye to gynecomastia, I'm here to help. It's as easy as scheduling a free online consultation. I'll do a visual diagnosis to set your mind at ease, and we'll talk about the next step to getting rid of gynecomastia forever. Don't waste any more time. Let's get started with your free gynecomastia consultation.
— Robert Caridi, MD
Diplomate of the American Board of Plastic Surgery
Fellow of the American College of Surgeons (FACS)
Member of the American Society of Plastic Surgeons (ASPS)
Member of the American Society for Aesthetic Plastic Surgery
Founder of the Austin Gynecomastia Center