Can I Wear A Push-Up Bra After A Breast Augmentation?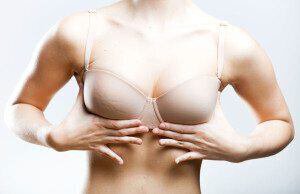 I always recommend women wear a bra after breast augmentation for the best results. But what about push-up bras? At first glance, you might ask yourself why you would even consider wearing a push up bra after you just had your breasts augmented. After all, the purpose of a breast augmentation with implants is to make your breasts larger so you don't have to wear a push up bra for that "enhanced" look.
The purpose of this consideration is twofold:
Patients may benefit from the use of a push up bra to keep their implants upfront and center, where they should be. Because of gravity, implants tend to move down and off to the side over time, and a push up bra may help in keeping them in their ideal position.
Some patients prefer the flexibility of altering the appearance of their breasts. There is a strategy of selecting an implant size that patients think they can live with long term that allows freedom of movement and exercise. The push up bra simply offers the choice of looking really enhanced, for that special occasion or anytime the appearance of larger breasts is desired.
Tips for Breast Implants and Push-Up Bras
It is a commonly held myth that you should always go larger than you would think when considering a breast augmentation. This may be true for certain patients. But if you go too large, issues can arise that lead to disappointment and frustration. For instance, it could be problematic if your breasts "get in your way," if they keep you from exercising freely, or if you simply can't look a reasonable size in your daily life. Take a look at my breast augmentation before and after photos to get an idea of the results other patients have obtained with various breast implant sizes.
Using a push up bra could be an ideal way to have your cake and eat it too. You can choose a size that looks fantastic but remains manageable. Then you can use a push up bra for that extra "oomph" when you want it.
Push-Up Bras and Implant Size
It is well known that the larger the implant, the greater the risk of complications, including implant displacement and rippling. If you choose an implant that actually fits your chest and your breast anatomy, your breasts will continue to look beautiful when naked. I have seen many patients who appear to have shapely breasts when dressed, but they are disappointed when unclothed. Their choice of size caused issues that can be hidden with clothing but not without.
How A Breast Augmentation Is Performed
Push-Up Bras and Breast Implant Pain
On a lighter note, wearing a push up bra with an underwire after a breast augmentation is fine as long as it doesn't dig into your breast and cause pain. A properly fitted bra with an underwire is just fine. Bras have come a long way over the past two decades! You can find many wire-free bras that provide the same support as an underwire bra.
So, Can I Wear a Push-Up Bra After a Breast Augmentation?
Wearing a push up bra after a breast augmentation is not an oxymoron. It's actually a strategic maneuver so you can enjoy all the best features of a breast augmentation. With a push-up bra you can avoid the risk of going too large and having no way to make it better without undergoing surgery again and choosing smaller implants. I say get it right the first time and make sure your surgeon gives you a thorough education on the reality of breast implants — both short term and long term.
— Robert Caridi, MD
Diplomate of the American Board of Plastic Surgery
Fellow of the American College of Surgeons (FACS)
Member of the American Society of Plastic Surgeons (ASPS)
Member of the American Society for Aesthetic Plastic Surgery
Founder of the Austin Gynecomastia Center