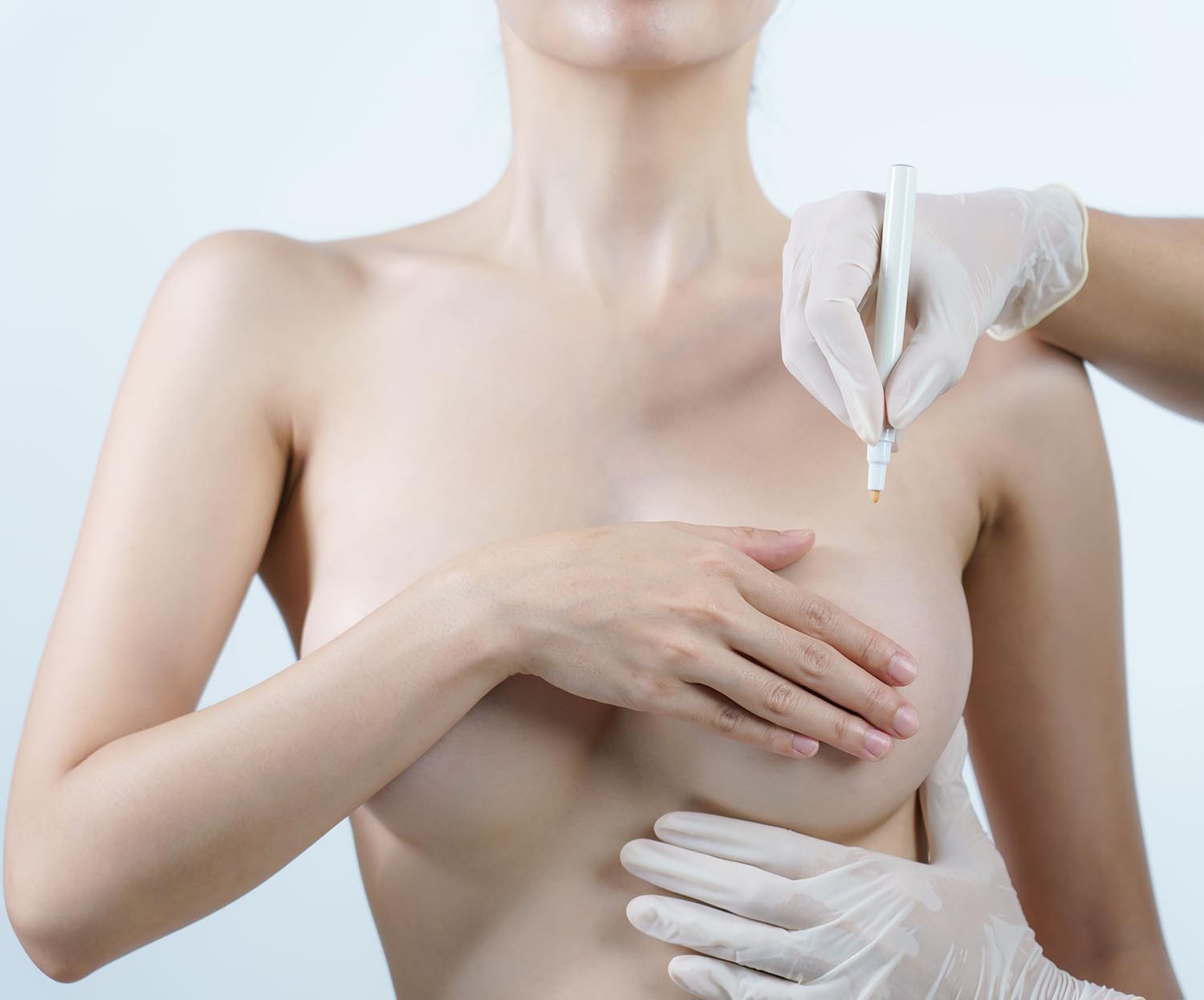 Breast Lift vs Breast Augmentation: Which is Best for Me?
It is very confusing to patients when contemplating a breast lift. How do you know if you are a good candidate for a breast lift? Will breast augmentation alone work for my breasts? How is a breast lift performed? What are the scars associated with a breast lift? Can you combine a breast lift and breast implants in the same procedure? What is the difference between a breast lift and a breast reduction?
The most straightforward breast enhancement procedure is breast augmentation. This means a breast implant device (saline or silicone) is placed below the breast to improve the shape and increase size. The standard/ideal incision is a small one at the bottom of the breast that hides very well. Breast augmentation is ideal for a patient who doesn't have saggy breasts and whose nipple-areola complexes face forward or "up to the sky." A breast implant can provide some benefits of a breast lift but only modestly so. Trying to lift sagging breasts with very large breast implants is a common mistake that leads to dissatisfaction, and choosing a breast lift with a breast implant combination is better.
A breast lift is a procedure to adjust the skin and tissue of the breast to improve the shape and position of the nipple-areola complexes. It is ideal for smaller breasts that are saggy. Larger breasts that are heavy are better suited for a breast reduction procedure whereby sagging breast tissue is removed. The scars from a breast lift are shaped like a lollipop or an anchor, depending on the size and shape of the breasts.
A breast lift can improve the shape of your breasts and position the nipple-areola complexes in a more ideal location, but it is not a treatment for breast sagging and doesn't add fullness to the upper breast as most patients would like. In other words, the benefits of a breast lift are limited, and that's why breast implants are often combined with breast lifts. For larger breasts, the most beneficial procedure is a breast reduction combined with a breast implant. This is far less common as most surgeons are not experienced with this procedure. Trying to "lift" a larger sagging breast will most certainly lead to disappointment.
Determining the best option for your breasts depends very much on your goals and fears as well as the judgment and experience of your surgeon. A breast lift and implant combination is challenging—a breast reduction and implant combination even more so. I have been working on my BRA (Breast Reduction and Augmentation) procedure for many years. It has proven to be a very effective and reliable procedure for those seeking the ultimate in breast enhancement—improved shape with superior fullness and no sagging. Larger, lower breasts can be transformed into "higher, tighter, and perkier breasts." You don't need to worry about heavy breast tissue sagging if it has been removed!
You can learn from my vast experience as I have. If you need a breast lift, you should consider it, as my patients have been very pleased with the improvements and find the associated scars to be well worth the benefits. Beautiful, youthful breasts with a scar are much better than sad, sagging breasts. Of course, there is no such thing as a breast lift without scars—it won't happen no matter what your surgeon tells you (or sells you!)
Breasts that don't sag are good candidates for a breast implant alone.
Breasts that sag and are smaller in size can be suitable for a breast lift.
Breasts that are sagging and are moderate in size will likely benefit from a breast lift and breast implant.
Breasts that are larger and low with a loss of upper breast fullness are ideal for a breast reduction and breast implant combination.
If you read this blog and still need clarification, visit several reputable, experienced plastic surgeons and learn about the available options and what they believe is best for you. And a closing word to the wise—it is important to understand the value and need to wear an appropriate supportive bra as much as possible to preserve your result! Gravity doesn't take a break, and neither should you.