How The Benefits Of A Breast Augmentation Go Beyond Better Breasts
When you think of a breast augmentation in Austin, you think of larger breasts and all the benefits that come with that. But truth be told, the benefits of a breast augmentation go beyond better breasts and encompass your entire body. It's all about body proportions. The results can make you look thinner, taller and shapelier. It's quite obvious when you try on implant sizers in front of my full-length mirror — we look at your breasts and then the entire picture. This is not the same thing as looking at breast augmentation before and after photos of other patients.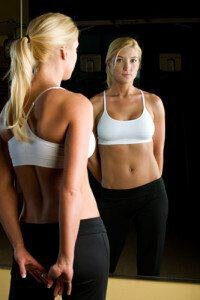 But implants can also make you look heavier, fuller, shorter and wider. The benefit of trying on implant sizers in a full-length mirror is that you can make the best decision regarding the size and shape of your implants. There is no computer imaging technology that can come close to this real time experience.
Choosing the right size breast implants is not about the alphabet (ABCD), it's about choosing a size that fits your figure. Helping you choose the right size is my job, and good communication is essential to getting it right. There is no rush to decide. It's important for you to hear what I have learned in my 28 years fitting breast implants. Getting it right is my goal, and I have a great track record of doing just that. The most challenging patients are the ones who can't make a decision. They often want me to make the decision for them. Breast augmentation cost has nothing to do with the size of your breast implants as the cost is same.
If you're someone who thinks a breast augmentation is all about the breasts, you need to think again. There is a reason why it is the most sought after plastic surgery procedure performed today. A great breast augmentation can help bring it all together into the ideal proportion. The ideal breast augmentation fits your figure and your lifestyle. By far, the most important decision you will ever make when considering a breast augmentation is the size of your implants—you need to make sure you choose wisely.
How A Breast Augmentation Is Performed
— Robert Caridi, MD
Diplomate of the American Board of Plastic Surgery
Fellow of the American College of Surgeons (FACS)
Member of the American Society of Plastic Surgeons (ASPS)
Member of the American Society for Aesthetic Plastic Surgery
Founder of the Austin Gynecomastia Center